On Wednesday I was assigned a portrait of the Post-Bulletin's Athlete of the Year. The photo would go with sports reporter Pat Ruff's story that would run in the Jan. 1 paper. Like all sports portraits, I wanted to make this one special. Since it was for our Athlete of the Year, I really wanted to make it stand out.
So, when I got all the information of what makes Century senior Andrianna Jacobs such a spectacular athlete, I knew I had to tie in the three sports she excels in: pole vaulting, diving and gymnastics. She has been to state 12 times in her high school career and is the state's top pole vaulter.
But how was I going to bring it all together?
First, I needed a location. A pool was the most logical place since nothing else really screams diving. Then, a pole vault pole would help showcase that side of her. And her gymnastics leotard, although subtle, would bring it all together.
I had a few ideas for poses as I arrived to the John Marshall pool but nothing sold on. I set up my two Speedlites on stands and after some discussion, Andrianna was cool with trying some jumps on a diving board. I moved my lights into position. One to my left along the pool deck, the other at the end of the pool on my right, closer to the diving board.
Andrianna had a gymnastics jump/pose in mind (I forgot what it's called but it's what she is doing in the photo). The jump/pose looked great so we tried it a bunch of times, working on timing, angles and lighting.
I am happy with the results. It's different might make a viewer look at it longer to try to understand it. I'm received a few compliments from colleagues on it and a mention by the MSHSL's media king:
A huge thanks to Andrianna for her patience and enthusiasm. I wouldn't be able to do portraits like these without cooperative subjects.
Here is the final image that ran in Friday's sports section: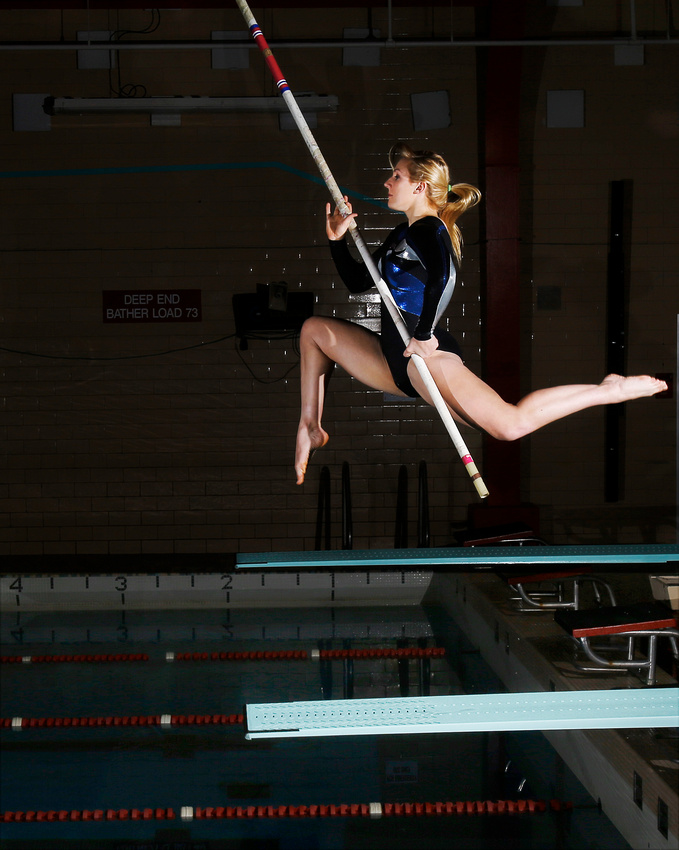 Century's Andrianna Jacobs 01Senior Andrianna Jacobs excels in pole vault, gymnastics and diving for the Century Panthers.
I also took a few less-exciting portraits just in case my editors didn't like the main idea:
Century's Andrianna JacobsSenior Andrianna Jacobs excels in pole vault, gymnastics and diving for the Century Panthers.