The results are in... And 2015 was a pretty good year. I finished third for Region 5 in the National Press Photographers Association's Monthly News Clip Contest. It's a satisfying accomplishment as it's the highest finish I've had in my career so far. I finished behind John Hart of the Wisconsin State Journal and Fred Zwicky of the Lincoln Journal Star, two very talented photojournalists I enjoy following.
To give you an idea of how this contest works: Photographers submit up to 9 photos (12 this year) in categories each month. First, second and third places in each category (spot news, sports, feature, etc.) are awarded points. The points are tallied up for the standings. I competed in Region 5 which consisted of Minnesota, Wisconsin, Iowa and Illinois, I think. Maybe one or two more states.
I accumulated six first places, five second places and two third places for a total of 560 points.
Here are the final Region 5 standings: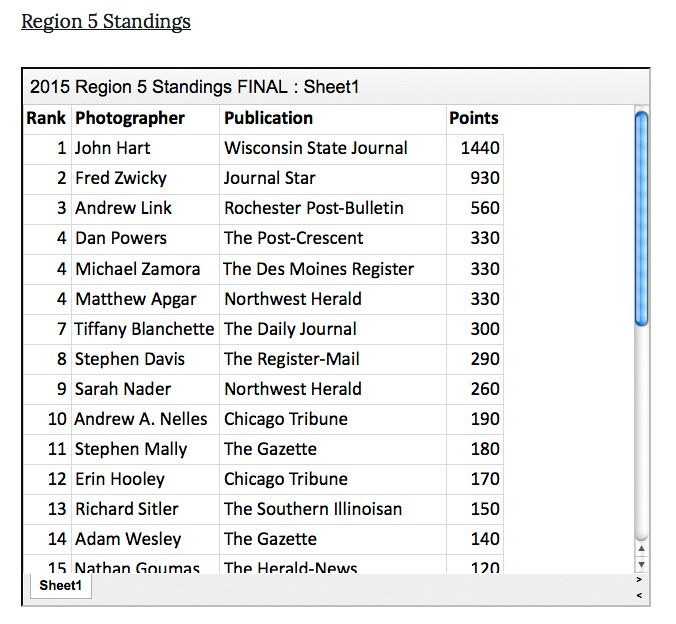 Here are the photos that took firsts:
Veteran Burial 01More than 100 people attend the graveside service for Vietnam veteran Richard Rhodes on Monday, Jan. 19, 2015, at St. Mary's Cemetery in Winona. Rhodes, with no surviving family, was given full military honors in a short service.
FireWinona and Goodview firefighters battle a fire at 151 E. Third St. in downtown Winona early Friday, Feb. 6, 2015, morning.
Rollerblading 01Fifth-grader Grace Finnerty maneuvers under an obstacle while rollerblading with classmates during physical education class Tuesday, Feb. 10, 2015, at St. Stanislaus Elementary School in Winona.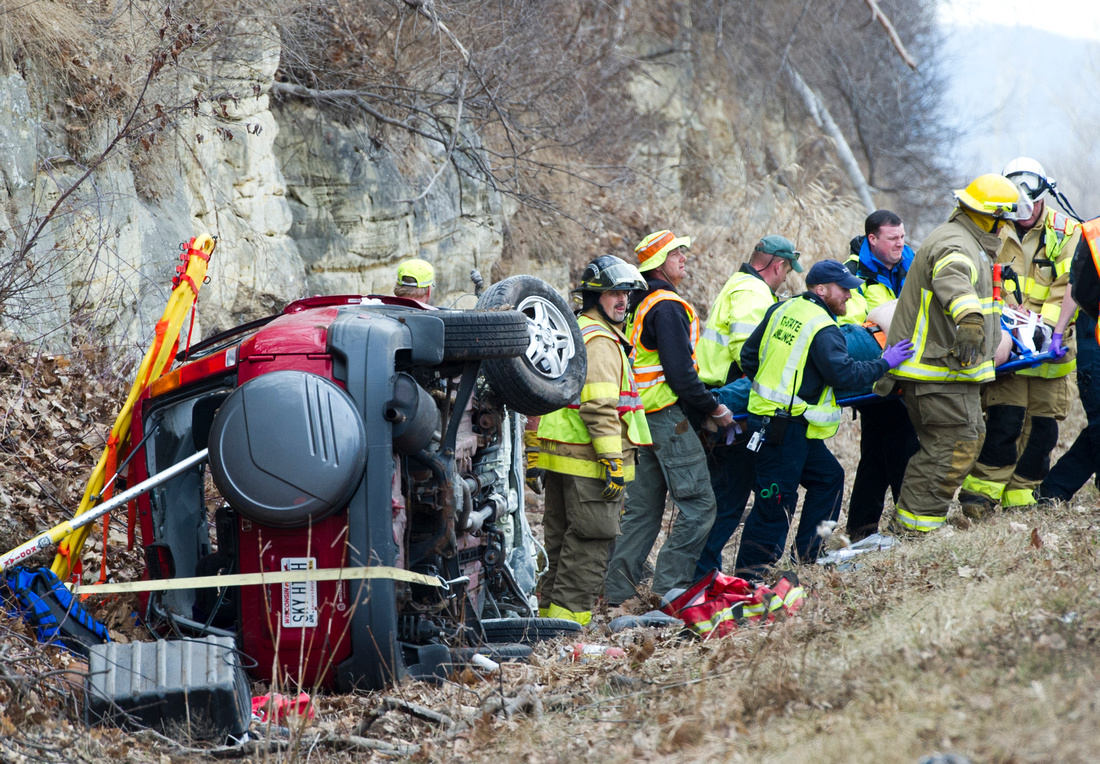 Hwy. 61 Crash 01Emergency responders carry Charles Bushek, 57, of Onalaska, Wis., to the ambulance at the scene of a one-vehicle crash Thursday, March 19, 2015, on Hwy. 61 north of Dakota, Minn.
WSHS Girls BasketballWaseca's Katie Tlusty, right, is fouled by Winona's Abby Winter after grabbing a rebound during a MSHSL Section 1AAA semifinal game Saturday, March 7, 2015, at the Mayo Civic Center in Rochester.
Hwy. 52 CrashMinnesota State Troopers investigate a multi-vehicle crash involving a semitrailer Monday, Aug. 24, 2015, on Hwy. 52 near the 100th Street NW exit.